聘请外国文教专家资格证注册类型:A1 ,注册编号:1101004
国际关系学院始建于1949年,在周恩来总理的亲切关怀下成立,是一所富有优良传统的高等学府。多年来,党和国家领导人重视和关心学校办学工作。老一辈无产阶级革命家周恩来、朱德、邓颖超等同志曾多次来校视察,与师生亲切交谈,给予极大关怀。陈毅副总理亲笔题写校名。邓小平、陈云、叶剑英等中央领导同志也在不同历史时期,对我校的建设与发展做出过重要批示。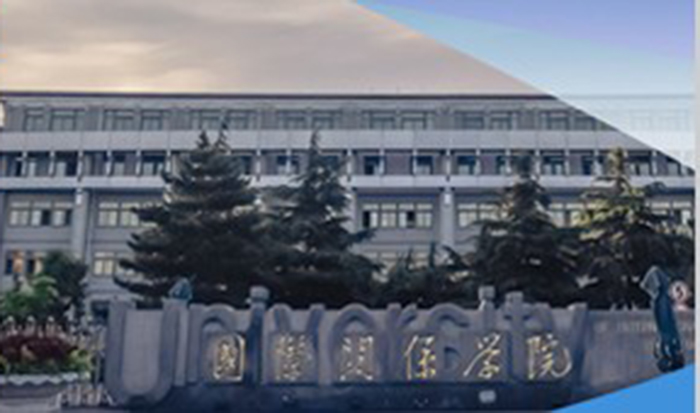 学校曾为新中国第一批"将军大使"开办培训班;20世纪50年代首创侧重外国当代语言学习的教学方法;1964年,被列为全国重点高校;1981年,学校成为全国首批获得硕士学位授予权的单位之一;1983年,率先完成从单一的外语院校向多学科复合型院校的转型。
Founded in 1949, and administered by the Ministry of Education, the University of international Relations is recognized as one of China's key national universities. Situated in Zhongguancun Science and Technology Park in the Haidian District of Beijing, to the east of the Summer Palace and west of Yuanmingyuan Park, UIR occupies a site with many world-class universities nearby. Blessed with an unparalleled geographical location and boasting a superb teaching and research environment, the UIR has produced many outstanding graduates.
With its motto of "loyal, diligent, practical, and creative," the core mission of the university is to serve the nation by cultivating superior talents in the fields of international relations and foreign languages. UIR's students develop an international outlook, strong research abilities in international affairs, and a profoundly humanistic perspective. As a result, UIR's graduates leave the university with the potential to provide creative leadership in different areas of society. After more than 60 years' development, now UIR has become a multidisciplinary university famous for its research and teaching focus on foreign language and international issues.
The university's academic units include the departments of International Politics, International Economics, Culture and Communication, Law, Public Management, and Physical and Aesthetic Education as well as the schools of Information Technology and Foreign Studies.
The undergraduate and graduate curriculums offer various majors including the following: international politics (both theory and diplomatic practice), international relations, the Chinese and foreign political systems, international law, international affairs management, public diplomacy and cultural communication, international economics, political economics, public procurement, English literature, French literature, Japanese literature, translatology, Chinese as an international language, information security, intelligent information processing, communication and information systems, and a number of other educational programs. All those involve five categories of economics, law, literature, management, engineering and 30 areas of study.
In addition, the graduate curriculum includes an international cooperative Master's training program, "China and International Relations" (CIR), offered jointly by UIR and Denmark's Aalborg University. Graduates from this program obtain Master's degree certificates from both universities.
The university also offers a joint doctoral program for International Relations majors.
Adhering to its "student-centered" mission, UIR is known for its intensive-learning environment, with small classes and an experienced and dedicated teaching staff.
The UIR has developed long-term cooperative relationships with a dozen universities and other academic institutions around the world, including Aalborg University, Université de Toulouse 1 Capitole, Sciences Politiques Toulouse, Hiroshima University, Marietta College and Galilee International Management Institute.
Since 2013 UIR has been offering summer semesters for international education. Foreign experts and professors from a dozen countries and regions are invited to teach academic and proactive courses every summer. To broaden its students horizons, the UIR also offers overseas study and international training projects. As well, a number of students are chosen to study in the United States and Europe each summer. Moreover, outstanding graduates are awarded graduation trips to neighboring countries.
UIR houses various research institutions, including the Research Center for International Strategy and Security Studies, the Research Center on China and International Relations, and the Institute of Public market and Government Procurement. UIR also publishes several academic journals, including the Chinese and English versions of International Security Studies.
UIR undertakes research on many national and provincial topics, and is establishing a multidisciplinary and interdisciplinary "Great UIR" system of research featuring cross-disciplinary studies of national security and international relations.
UIR occupies 136,800 square meters, and its total floorage is 118,700 square meters. The university also has an advanced networking system and an electronic teaching system like satellite TV equipped with modern multi-media classrooms and satellite television. Further, the UIR library has a broad and deep collection of books.
外国专家:
我校外国专家主要包括长期语言类外籍教师和通过国家引进国外技术管理类人才项目(引智项目)聘请的短期外国专家。
长期语言类外专方面,我校聘请来自美国、英国、加拿大、日本、法国等国家的外籍教师为我校本科生和研究生教授英语、日语和法语等语言类和专业类课程,聘请来自加拿大、日本的访问学者与我校教师开展科研和教学合作,聘请北京塞万提斯学院的外籍教师为我校学生开设西班牙语辅修课程。
短期外国专家方面,我校通过重点引智项目邀请外国专家、学者来校开展课题研究、开设讲座,并邀请来自10余个国家和地区的高校教师和行业专家来我校参加国际化夏季学期教学。
外国专家和高水平访问学者已逐渐成为师资队伍的重要组成部分,极大地提高了我校的国际化教学水平。